LAGGIS' FISH FARM INC.
08988 - 35th Street Gobles, Michigan 49055
Work (269) 628-2056 Days
Res. (269) 624-6215 Evenings till 9:00 PM/Michigan Time
Fax (269) 628-2056
www.laggisfishfarm.com
cool & warm water fish specialist since 1978.
best quality at reasonable prices!
Our fish have been health certified by U.S.D.A./AFS blue book standards


FISH FOR STOCKING
CALL FOR PRICING AND AVAILABILITY

GIANT HYBRID BLUEGILLS - AVAILABLE MARCH THRU NOVEMBER 10TH.
"OUR SPECIALTY" - THESE 'GILLS CAN GROW TO 2 LB. 10.5 OZ. (RECORDED) SIZE IN MICHIGAN WATERS AND NORMALLY WON'T OVERLY REPRODUCE TO GIIVE YOU STUNTED FISH (ALL SIZES PELLET TRAINED!)

LARGEMOUTH BASS - AVAILABLE MARCH THRU NOVEMBER 10TH.
GOOD FIGHTERS, HELP MAINTAIN BALANCED FISH POPULATIONS

SMALLMOUTH BASS - AVAILABLE MARCH THRU NOVEMBER 10TH.
GREAT FIGHTERS & GOOD EATING

WALLEYE - AVAILABLE JUNE THRU NOVEMBER 10TH.
FAIR FIGHTERS, GOOD EATING

CHANNEL CATFISH - AVAILABLE MARCH, APRIL & MAY - SOMETIMES LATER, CALL! LARGE SPECIAL ORDERS AVAILABLE APRIL THRU NOVEMBER 10TH. GOOD FIGHTERS, GOOD EATING

RAINBOW TROUT - AVAILABLE MARCH THHRU NOVEMBER 10TH.
FUN TO CATCH, GOOD TO EAT
YELLOW PERCH - AVAILABLE SPRING AND FALL ONLY.
FAIR FIGHTERS, VERY GOOD EATING

NORTHERN PIKE - IMPORTED - AVAILABLE END OF JULY, EARLY AUGUST.
BIG TIME PREDATORS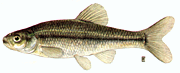 FATHEAD MINNOWS - (IF AVAILABLE)
50% DEPOSIT REQUIRED ON ALL WALLEYE ORDERS.

TWO-DAY NOTICE ONLY ON WALLEYE, DELIVERY OR FARM PICK-UP!

NO REFUNDS ON DEPOSITS IF YOU CANCEL YOU ORDER.
DELIVERY AVAILABLE WITH OUR TRUCKS.
IF YOU KNOW SONEONE WHO WANTS TO ORDER , WE CAN SPLIT FRT. CHARGES OVER MULTIPLE ORDERS.
FARM PICK-UP
MIN. ORDER PER SPECIES AS PER OUR STANDARD FISH/BAG PACKING.
WE ARE OPEN FOR FARM PICK-UPS SATURDAYS FROM ICE OUT IN MARCH TILL NOVERMBER 10.
- ALL ORDERS MUST BE PLACED IN ADVANCE.

WE PACK FISH IN PLASTIC BAGS W/WATER & OXYGEN FOR TRANSPORT
WE ALSO SELL FEED, AERATORS, LAKE RAKES, WEED CUTTERS AND ALGAECIDE.
ORDER EARLY AS FISH STOCKS ARE LIMITED! YOU ARE ALWAYS WELCOME TO VISIT OUR FARM. HOWEVER, DUE TO OUR DELIVERY SCHEDULES WE ARE NOT ALWAYS AT THE FARM - PLEASE CALL BEFORE YOU COME!